Windows365
Windows365 is a Cloud pc for all users and it`s so easy to start using!
In this post I will go through a setup of Windows365 Business in a cloud only tenant and show you how fantasticly easy this is!
There are some pre-requisites that need to be taken in considiration and I`l list them here
Azure AD – IAM
Maximum 300 users in your tenant
Microsoft Endpoint Manager (Intune) for admin/config
So with that "short" list the joker here is that you should have Intune configured allaready as that makes the Windows365 deployment soooo super easy.
Let`s first talk about licenses.
There are Windows365 Business and there is Windows365 Enterprise, as mentioned I will cover the Business version here – so let`s have a look at the different machine sizes.
The pricing is ranged between $24 for the cheapes one and $162 for the most expensive one with most vCPU`s, most RAM and biggest Storage.
1 vCPU and 2GB RAM + 64 GB Storage
2 vCPU and 4GB/8GB RAM + 64GB/128GB/256GB Storage
4 vCPU and 16GB RAM + 128GB/256GB/512GB Storage
8 vCPU and 32GB RAM + 128GB/256GB/512GB Storage
So there are some different licenses to choose from as you see. 12 of them to be exact and i`m guessing everyone can find a license fitting their needs.
In my scenario I`m using the $45 machine with the spec`s "2 vCPU, 8GB RAM and 128GB Storage" this is a machine that run`s the most of my regular work tools.
Provisioning the beauty!
So to the easy part! First off is to buy the license that you need based on your machine size – and when that`s done just simply add the licence to the user you are going to provition a cloud PC for.
That easy!
The user (maybe your own..) can simply logon to https://windows365.microsoft.com/ and access the machine 🙂 First time when you click the to connect the machine it will provition and get ready – in my case this took about 30 minutes – but after that the machine was ready for me to connect to.
about 1 hour later the machine was reporting into Intune that it`s a Compliant computer just like any other physical machine out there!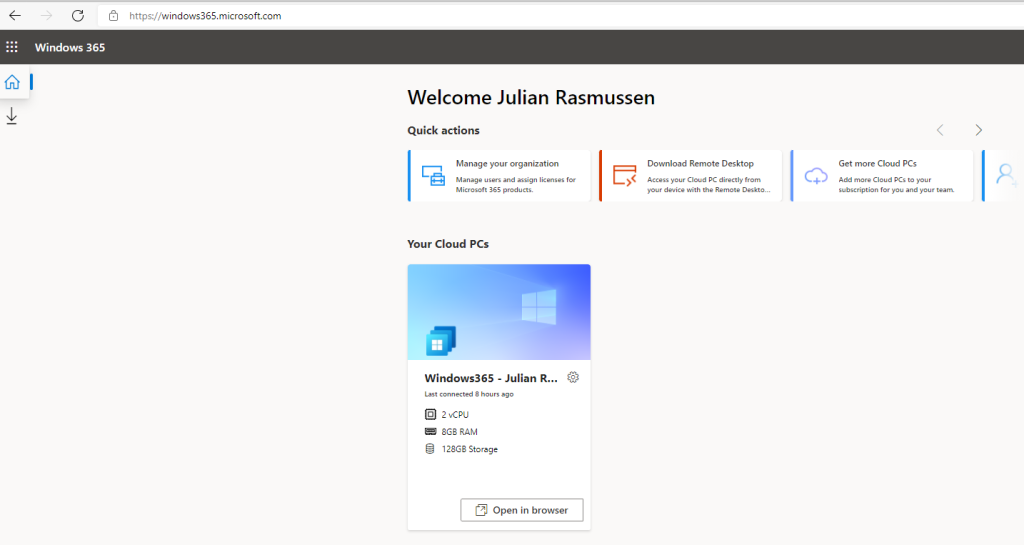 From the management pane of your cloud pc you can do actions like Restart, Reset, Rename and Troubleshoot.
De-provisioning and cleanup
This is even easier! Just remove the license from the user and the Cloud PC is removed after approximently 30 minutes.