If your Microsoft 365 tenant like mine is located in a region that not`s include your country then this is how you should configure your tenant to get the data as close to you as posible!
(if Microsoft has opened a Datacenter in your country of course :))
Why move your data?
There are several improvements by getting your data moved to a closer datacenter.
Improved latency to the services
Data stored in your own country
Still have DR capabilities outside of your country if infrastructure failes
Multi-geo capabilities to many more closeby countries for your staff
The latency improvements are incredible! I have noticed this when using a SharePoint Online site located in Europe vs. In my home country Norway. The latency against Norway was much much better and when using the service it feels much more "snappy".
Creating a new Microsoft 365 tenant for everyone living in Norway will create the data store in Norway aswel for the services
Exchage Online
SharePoint Online
Microsof Teams
When to do it?
Microsoft has released a table of when the Request period for requesting a move of data, take a look here to have a look for your country!
https://docs.microsoft.com/nb-no/Office365/Enterprise/request-your-data-move#when-can-i-request-a-move
For us in Norway this means that we need to opt-in by the end of October to be migrated and get our core customer data at rest in Norway.
When will your data be moved?
A catch with all this is that Microsoft says that they may use 24 months to move your data! TWO years for migrating it to new datacenters.. But that said, it can happend faster. After you request a move of data, Microsoft will plan to move your company data as soon as operational constraints allow.
How to request a move of data?
It`s quite easy to request a move of data!
Head in to "Settings -> Organization profile -> Data residency" and check the checkmark and "Save changes" then wait 🙂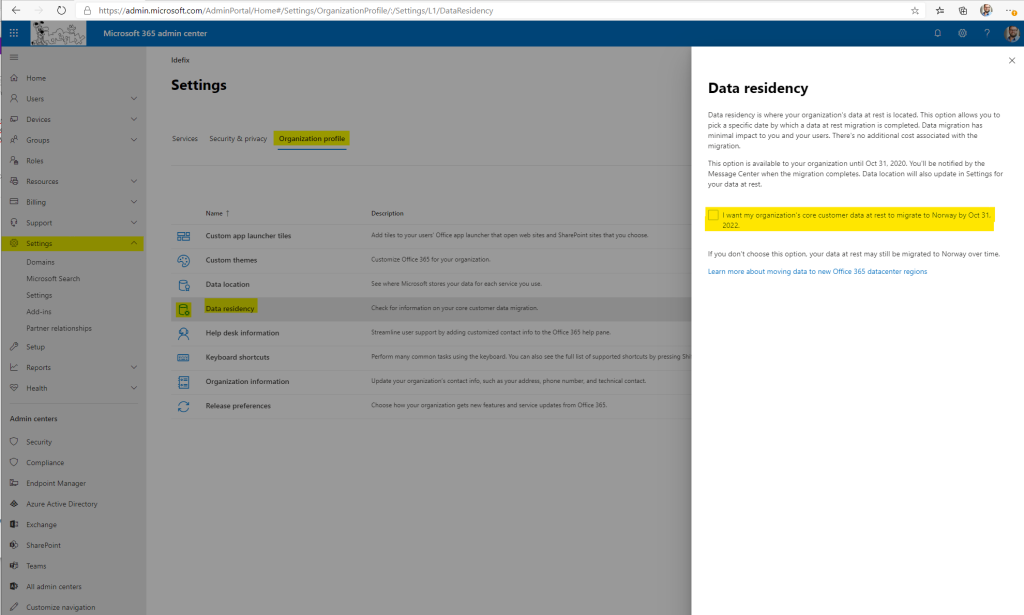 To look at where your data is at the moment head into the "Data location" in the same menu under Organization profile and have a look 🙂