You problably heard about multifactor authentication by now, but have you enabled it in your environment?
If not! Please do so at once! I will in this short blogpost give you the direction to get started with MFA in Azure AD.
So let`s just jump right into it.
First things first – protect your admin accounts!
With admin accounts i mean a account who has a additional role assigned other then beeing a regular user and to mitigate these users we will enable a Conditional Access who is requires MFA for all administrator accounts
So navigate to Azure Active Directory in portal.azure.com
Dive into "Security" -> "Conditional Access"
Click the "Baseline policy: Require MFA for Admins (Preview) and choose to use it immidiatly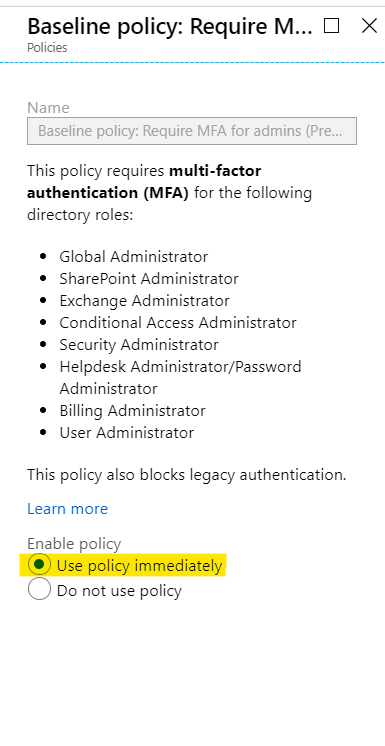 So now you have successfully enabled MFA for all your admins! Great work 😊
To make it easier for yourself you can now change the MFA verification from the default SMS to Authenticator app by visiting https://aka.ms/mfasetup and add the Authenticator app as a preffered method.
Next up is to enable it for all your users and that i will cover in the next blog post – Stay tuned for "Get started with MFA – Part two" 🙂