At 06.01.2020 Microsoft released the deprication notice for Azure Information Protection client and Label management in the Azure portal. The service is deprecated as of March 31, 2021.
The notice is telling us that within 15 months you all need to migrate all your labels from AIP in the Azure portal over to the new Unified label experience within Office 365 portals.
You find the new label management in several places;
So heres a easy pointer on how to migrate you labels from Azure Information Protection to Unified labels within Office 365.
Navigate to portal.azure.com and head into the Azure Information Protection pane.
From there click on "Unified Labeling" in the left menu and acitvate it.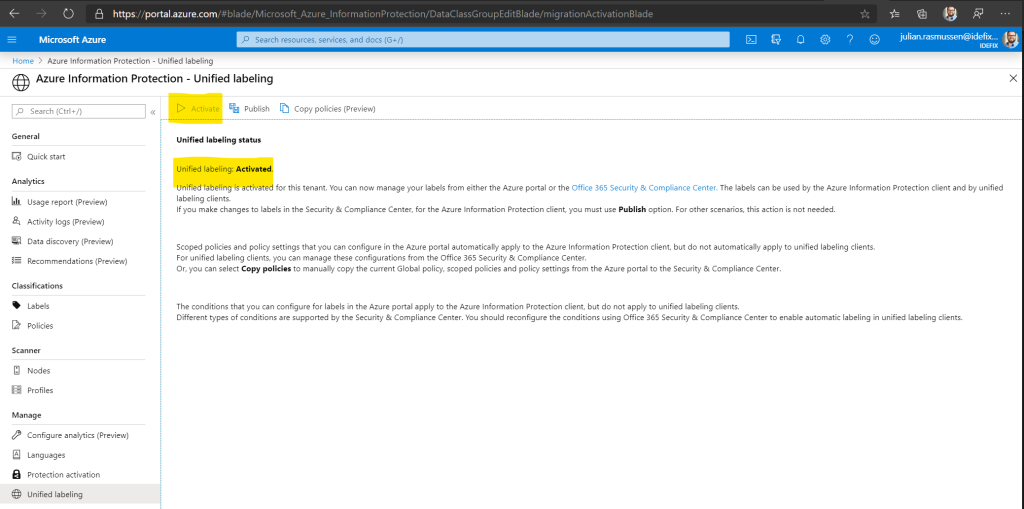 When this is done you can start using the Unified labeling clients and stop rolling out the classic Azure Information Protection client.
Please keep in mind that you need to have a specific version of Office applications installed on your machine or phone.
Windows Desktop – 1910 or higher
Mac Desktop – 16.21 or higher
iOS mobile – 2.21 or higher
Android mobile – 16.0.11231 or higher
For the licensing part here is the license requirement to use Sensitivity labels.
Microsoft 365 E3 or above
Office 365 E3 or above
Azure Information Protection P1
For more advanced use like Automated labeling with sensitivity labels you need to go to E5
Microsoft 365 E5
Office 365 E5
Azure Information Protection P2